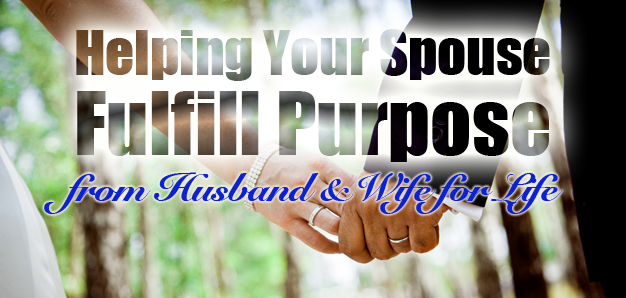 Coming together in marriage is fulfilling Gods will and purpose. When two people come together in Gods will, they become one while bringing their God given purpose with them within the relationship. When He reveals purpose in one spouses' life, the marriage gains purpose as well. One goal in marriage is to pray for and support each other to find and walk into their purpose for their life. Passion will help give you direction towards what that purpose is and it will motivate you until you receive the manifestation of your purpose. Purpose will help you fulfill hope and wealth for your future and your marriage.
 "For I know the plans I have for you," declares the LORD, "plans to prosper you and not to harm you, plans to give you hope and a future" (Jeremiah 29:11).
      Many times spouses argue because of the miscommunication to each other about their passions and purpose. It is your job as a spouse to stay prayerful and ask God to reveal His purpose to you and to give your spouse their designed purpose as well. But….Get Ready! Once your spouses' passion lines up with his/her purpose, you will notice a shift in your spouse and your marriage. There will be good time and not-so-good times, but they all will ultimately work together for the blessings God has placed over your marriage.
      Part of honoring God in your marriage means to support and push your spouse in fulfilling their purpose. Husbands and wives unite and align on their individual purposes and thus the purpose in marriage. Below are some tips from both Husband and Wife point of view to help your spouse walk in purpose!
 1. BE POSITIVE ABOUT HER IDEAS
      It's hard to keep passion and purpose still. It will stir in your mind and spirit all day and all through the night. Your always thinking of new ideas and creating new concepts and it's hard to turn it off. So, when your wife comes to you with what seems to be "another" idea or an "outrageous" concept, be positive, have faith and see light in what she is speaking. Fulfilling purpose requires thinking that will lift you out of your comfort zone and sometimes it will feel inconvenient and uncomfortable.
 2. KEEP HIM MOTIVATED ABOUT HIS PURPOSE
      Fulfilling a greater vision in life will bring times of frustration and failure. When your husband comes into this time, be his motivator. Husband are there to be the providers and to direct their family throughout life's cycles. Making mistakes while fulfilling purpose can bring on doubt. Since he is born to lead, he can take mistakes as a spiritual and mental defeat. Keep him focused on Gods will for his life and the harvest of blessings waiting for him. Be creative and come to him with your own ideas on how you can help him overcome obstacles. This will reassure him that he's not in it alone. Also, offer to lead prayer with him as night, pray for his faith and that God rewards his faith for successfully walking through trials. While he is down, this is the most important time to show your support, faith and love for what he believes in.
 3. CREATE AN ATMOSPHERE FOR HER TO DE-STRESS
     Too much stress can be a slow killer of your visions, mind and spirit. Your wife needs a normal level of stress to be able to operate in her purpose. Pay attention to times when your wife is over-extending herself to others or becoming frustrated over certain situations. Learn the things that she does to relax and unwind. Then, take the initiative to make those things available for her. Make it a priority to be sure she has access to her stress relievers.
 4. HIGHLIGHT HIS STRENGTHS TO MINIMIZE HIS WEAKNESSES
     To fulfill purpose it is important to know your strengths and how to utilize them. Get in tune with the areas your husband is the strongest in and expose them, Show him that his strengths are not in knowing everything, but in knowing how to use what he knows and choosing positives to overcome negatives. We all have weaknesses, negatives, and flaws, but they don't need to have a spotlight. Our imperfections are all a part of our character, personality and ultimately our destiny.
 5. BE HER BIGGEST FAN
     Support goes beyond words alone. Support takes action. Be a part of her greatest journey, which is her God given purpose. Be her cheerleader! Go with her to meetings or appointment. Try your best to be present with her at social and networking functions. Make every effort to make it easy for her to meet deadlines. Talk about her faith walk to others and praise her for her courage to follow Gods purpose over her life. Don't minimize the smallest victories. When she hits a goal, whether big or small, take the initiative to celebrate BIG!
 6. HAVE HIS BACK WHEN OTHERS DON'T GET IT
     While your husband works to fulfill the purpose in his life he will often come across people who don't believe in his calling. Don't allow others to minimize his purpose and passion. Back up what he believes and refrain from letting others think that you fall short in believing in his success. You are his backbone and God gave you to him to hold him straight up when others try to knock him down.
     The most important goal in marriage is to continue praying for each other and for what God has designed for each spouse to be. Prayer will be the most important seed when planting your purpose.
 "For where two or three come together in my name, there am I with them." (Matt. 18:20)
     Pray that God gives your spouse understanding about this purpose. Pray that He leads and guides them throughout their journey and pray for your spouse's faith. When your spouse receives understanding and clarity, it will help them with the trials that may come up against and help you walk through it with them. Also, thank God for the blessings He has promised. He has perfectly designed your marriage and only He knows it's greatest end.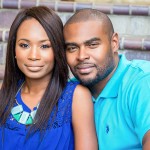 Husband and Wife for Life Founders, 
Mark and Laquilla Lane